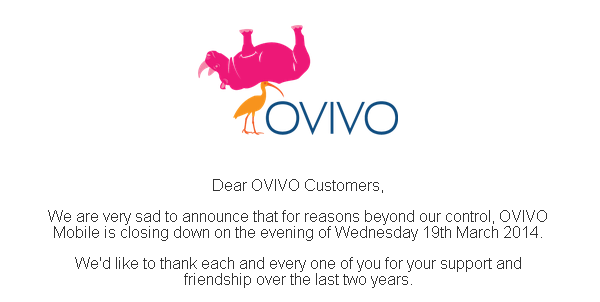 So OVIVO Mobile is no more as of now 🙁 We've been following them since the beginning and we're sure you're all as shocked as we are to hear this news completely out of the blue. After all, while we expressed doubts about their business model at the beginning, it seems they'd really carved out a working niche for themselves.
And recently their public-facing side had appeared to be very optimistic. Not only had they claimed to have solved all the issues with their advertising delivery but they'd also been aggressively expanding in recent weeks with high-profile promotional campaigns and generous increases to their free bundles.
Here at Mobile Network Comparison, many of us regularly used OVIVO as a handy backup SIM and many of our readers joined the network in good faith.
Now that their service is completely shut down your phone won't be working so make sure you head to their site to grab your PAC code as soon as possible so you can port over to a new network.
If you're struggling to decide who to change to, you might find our comprehensive comparison table pretty useful to make sense of the myriad options out there.
And Giffgaff have also announced a promotion to help people out.
To give ex-OVIVO customers a them a kick start, if they port their number before the end of April Giffgaff will give them and extra £5 credit to get them back on their feet.
This is really an incredible deal as you still get the £5 bonus credit we're ofering as well. So in total, the offer is that you get a grand total of £10 extra credit completely free!
They have also changed their post to 1st class for anyone ordering a free SIM between now and Sunday 23rd March, to help them out further.
So whoever you decide to switch to we wish all you OVIVO users a speedy transfer to your new provider.