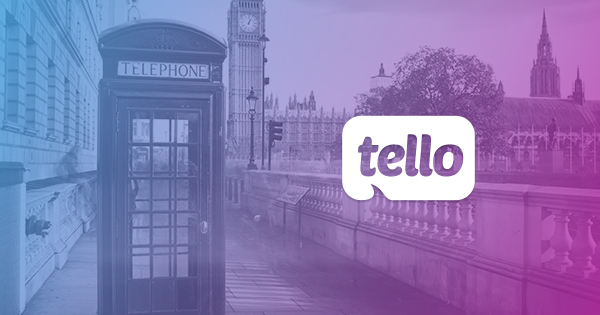 tello is the latest newcomer to the MVNO party in the UK having launched at the end of October last year. It's formed through a partnership between KeepCalling and x‑Mobility.
KeepCalling is a US telecoms company with offices in Romania and Bolivia. It started off small back in 2002 reselling phone cards before expanding into monthly mobile plans and international virtual numbers. It now runs over 70 websites turns over about £30 million in yearly profits.
x‑Mobility is a Mobile Virtual Network Aggregator. Basically, what this means is it acts as an intermediary between Three Mobile and the various virtual networks than run on its service.
We got together with their Managing Director, Silvana Tatu to ask a few questions about the new network.
Hi Silvana, thanks for chatting with us. First of all can you explain a little more about the genesis of the company and the ideas behind it?
tello is a brand designed by KeepCalling, a telecom company based in the US, Atlanta who's been in the telecom business since 2002. From the beginning, KeepCalling's mission has been to bring family and friends closer together and offer them affordable means of communication.

In 2014, KeepCalling created tello having the same goal in mind: offer a clean, high quality mobile service for UK users with a fair and simple billing mechanism. And top of that, tello was designed as a solution to cover long distance calling needs for expats in the UK, businessmen, or any other person living in the UK who needs a SIM to call abroad, make local calls and surf the web.
And can you tell us a bit about the management team and their background?
KeepCalling's management team is represented by a group of young and ambitious specialists who gathered a wide experience in the telecom market. The knowledge acquired while doing business in the US for the past 13 years was a very useful prerequisite when deciding to expand our business to the UK.
You seem to have a good understanding of the international/expat market. How are you positioning your offerings to suit these customers best and how true is it that you're a specialist network for international mobile use?
It's true that we cater our services and offers to meet our customers' needs. What's unique about us and what differentiates us from others is that we really put our customers, their traditions, their culture and language first. Customers can read, visit and buy our products from our websites in their native language. They see familiar images from their homeland, they receive customized emails based on their culture. Basically, their entire online experience from an ad they see on Google, to ordering a product on our website is customized to match their cultural background.

As far as being "a specialist network for international mobile use", we are honored. It's true that we have a lot of experience and that we know our customers, so I guess we could say we're a specialist in this field.
Could you describe the brand in three words?
Friendly, fair, responsive.
Great! But who do you see as your closest competitor?
Our services are addressed to both UK citizens & expats, therefore we have a lot of competition. The UK MVNO market especially is a very competitive one, with many operators offering great deals on international and national calls, text and data. Basically, all UK current providers can be considered our competitors.
So having said that and with our common understanding that the MVNO market is incredibly saturated and competitive, what's your one USP?
It's true, as I mentioned before, the UK market is a very competitive one, but competition is good. It pushes your limits and makes you better than you can ever imagined.

Our USP would be "Say hello with your new tello SIM: clean, fair, no hidden fees or overcharges"
What's the uptake been like so far? What are your growth plans and forecasts?
Even if tello is a new MVNO on the UK market, our online presence is getting stronger and stronger with every day that passes. We are currently analyzing different possibilities to expand our marketing strategy and grow our business.
Stay tuned for the second part of our Tello interview with Silvana coming next Monday…