The Nokia Lumia 800 is the latest Windows Mobile 7 smartphone. It comes with the revolutionary and simple live tiles interface, free Nokia sat nav software, a clear OLED screen and a top notch camera.
However, with rising tariffs rates and astonishing up-front prices for high-end phones it is increasingly hard to get a modern smartphone. Having the cash in hand for a brand new iPhone 4S is hard enough but falling into a 24 month contract can really put a dent in your budget. And that's not even considering the masses of small print, overage charges and extras that get people like you paying even more money than you signed up for.
To make things worse about mobile phone contracts, Orange just increased their rates by 4.35% even if you're already in the middle of a contract. This is clearly a real bummer, so today we're going to look at how to save yourself some bucks with the new Nokia Lumia 800.
Orange
We want to look only at the contract deals which give you the phone for free. The one we found with the Nokia Lumia 800 free on Orange is currently £36 monthly. Included in this is:
600 minutes
Unlimited texts
1GB mobile internet
Of course, the actually price you'll pay after the Orange price increase is £37.56 a month. This equates to an additional £37 over the 24 month contract.
That makes a total of £901.44! Surely there must be better deals that don't cost nearly a grand for 2 years use?
Vodafone
Another contract deal that includes the Nokia Lumia 800 free is from Vodafone on a similarly priced offer:
900 minutes
Unlimited texts
750MB mobile internet
This costs £36 a month for 2 years which works at at £1.56 less per month compared to Orange's deal after January 8th. You also get an extra 300 minutes. The only sacrifice is a loss of 250MB of data, but if you prefer call time over internet use then this maybe for you. The total cost is £864 over the whole 24 month contract. ⇒ Get this deal now ⇐
3
Probably the best contract deal for the Nokia Lumia 800 is from 3. There you can get the phone for free on a low-priced £30/month tariff. This includes:
500 minutes
5000 texts
1GB mobile internet
This offers a great balance between calls and texts and, importantly, offers a full 1GB of included mobile data. The total over the whole two year contract is only £720. ⇒ Get this deal now ⇐.
However, this is in a contract so who knows what could be hiding in the small print especially as they could follow Orange and increase prices by up to 5.4%. Also, you should be aware of extra charges – for example, if you typically used 1GB of data on a smartphone like this, you might face huge additional charges after exceeding your 750MB limit.
Giffgaff
Contracts can offer great value but they are not for everybody. If you want to steer clear of a contract but still get a great phone like the Nokia Lumia 800, you can go SIM free. This is the budget option but, if you don't need lots of minutes, it can work out great.
The phone currently costs only £429.99 from Amazon with free delivery. Then you need to order a free micro-SIM from PAYG network Giffgaff (this is because the Nokia Lumia 800 can't take normal-sized SIM cards.
Then look at Giffgaff's great value goodybags – their rolling monthly tariffs. If you want a budget option, their £10 goodybag will give you:
900 minutes
Unlimited texts
Unlimited mobile internet
For £10/month, truly unlimited internet is astounding as you are likely to be able to use data at your hearts content. it's the perfect match for a data-hungry phone like the Lumia 800. If you chose this method there is less call time per month, but if you are going to be spending this much money on a new smart phone it's likely that data usage will play a very important roll in your new mobile's life. What's more, Giffgaff call charges are very low and all your calls to other Giffgaff mobiles are completely free all the time.
So for £429.99, plus a £10 goodybag for 24 months comes to £670 – that's over £200 cheaper than Orange's deal!
A pricer alternative is the £20 goodybag which offers:
800 minutes
Unlimited texts
Unlimited mobile internet
Once again, you have to buy the phone in advance from Amazon then order the £20 goodybag. This comes to a total cost of ownership over two years of £910 but if you want to make use of the unlimited data it's definitely worth it. You also won't have to worry about going over your limits and having to pay overage charges. So if you don't want a contract, its possible to get a great deal by going SIM free and choosing a PAYG network instead.
Summary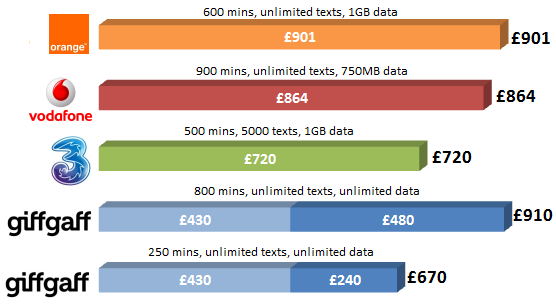 The above graph should show you what the various options are and, as it has calculations for total cost of ownership, makes it clear which deal would be cheapest for you.