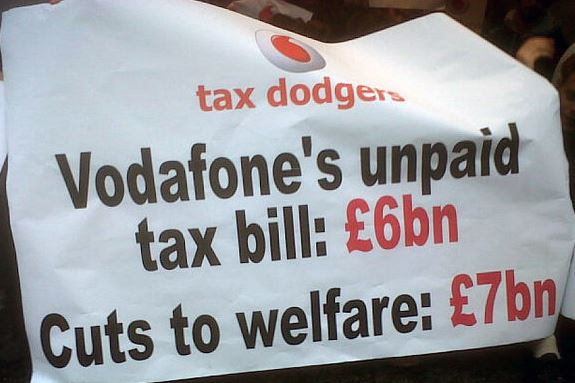 The UK's second-largest mobile phone network, Vodafone, is still avoiding paying any tax at all in the UK. Despite making revenues of over £40 billion in the last tax year, the operator has avoided paying taxes which fund public services in this country. In fact, Vodafone recording profits of over £3 billion overall and made over £5 billion in revenues from UK customers. However, even though they paid their the tax bills they are legally obliged to in other countries up to a total of over £2.5 billion, not a single penny of tax was remitted to HMRC.
Vodafone join EE (the UK's biggest mobile operator) in the hall of shame of tax-dodgers. Only last November we reported about how EE's latest accounts show that it has not paid anything at all in corporation tax in the UK.
Apple is another technology company that has been strongly criticised in recent months over its UK tax arrangements. Political comedian Mark Thomas attended a flashmob protest this week at Apple's Regent Street flagship store. Apple has been revealed to pay just 0.01% tax on a sales income of $74 billion. That's roughly just one dollar for every $7400 earned. In contrast, a UK taxpayer earning the median income pays about 19% tax or one pound in every five earned. Apple gets away with this by funnelling its earnings through various subsidiaries in the Republic of Ireland.
This is the second year in a row that Vodafone have paid no tax at all. Their ethical record was already somewhat dubious after supporting now-toppled dictator Hosni Mubarak against mass public protests during the Arab Spring. However, the mobile network will find it hard to defend the fact they aren't contributing any tax especially when the last 12 months have seen shareholders rubbing their hand following a 13% rise in the stock price and taking home almost £5 billion in dividends.
What Vodafone is doing is technically legal as it is writing off its spendings on 4G upgrades and interest payments which attract huge tax breaks. However, despite them not paying any tax, their CEO Vittorio Colao took home over £10 million last year.
The fact that UK citizens are being ripped off by a massively profitable global conglomerate is particularly important now they are suffering under George Osborne's austerity measures. Vodafone is effectively being being subsidised by taxpayers via the coalition Government. About 14,000 Vodafone staff work in the UK out of a total workforce of around 90,000. And although Vodafone was let off £6 billion in tax last year and didn't pay anything again this year, Osborne is slashing the UK's welfare budget by £4 billion.
What's your take on this? Should a company as profitable as Vodafone be allowed to pay no tax at all in the UK? How come they have to pay tax in other countries but not here? And what do you think should be done to crackdown on corporate tactics like these?