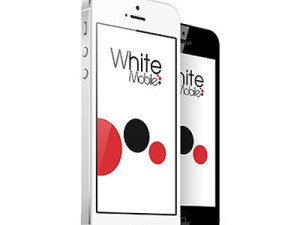 There's another new kid on the MVNO block: White Mobile. With an aggressive pricing model and some catchy marketing, they are aiming to be the next big cut-price mobile network. And they aren't holding anything back when going for the throats of their competitors. They are looking to the future with heavy investment into VoIP services and they are also keeping prices at rock bottom. With landline calls starting at just 3p per minute, mobile calls at just 6p per minute and texts priced as low as 5p each, it looks like they might be making some fairly substantial waves in the PAYG market soon.
Not only that, but they also have some other great offering such as free voicemail, free calls and texts to other White Mobile users and even cheap international calls.
Looks like they are offering a pretty well-rounded package. But are they the real deal and can they keep these prices so low forever? We got together with co-founder Graeme Hutchinson to find out more. He's worked for the UK's biggest virtual network Virgin Mobile along with ex-CEO of EE Tom Alexander, so it would be fair to say he's got quite a pedigree in the mobile industry.
Hi Graeme, thanks for taking the time to talk with us today, to start with, please can you let us know a bit about how the company came about?
White Mobile is the collaboration between a number of very successful and highly experienced executives from the mobile phone and international calling card industry, led by Graeme Hutchinson, former Virgin Mobile Sales and Marketing Chief and co-founder.
When did the company launch? What have you been doing so far and how do you think it's been going?
White Mobile launched in November 2012 and has been selling SIMs and top up services through several thousand retail outlets and via its website. To date sales and have been exceptionally strong which we believe is a direct result of our brilliant rates to both UK and international destinations, combined with a genuinely customer centric philosophy that we hope comes through in everything we do as an organisation.
What is your target market? How has adoption been so far and do you have growth forecasts?
Ultimately our target market is anyone in the UK who prefers straightforward pay as you go mobile services (as opposed to 30 day and longer contracts). In recent years the cost of pay as you go services have increased dramatically as operators try to force customers to take out contracts. White Mobile reverses this trend and has brought back brilliant value to pay as you go. Why should consumers get worse calling rates because they want to pay as they go? The answer is they shouldn't and mobile operators are charging excessively for pay as you go. White Mobile is the UK's pay as you go champion and offers the best value to UK consumers, whether for UK calls and texts or for international calls and text. Take up so far has been fantastic and our forecasts is for hundreds of thousands of White Mobile UK customers within the next three years.
Which network do you use to provide your infrastructure and why did you choose them?
EE. In our opinion the best network in the UK with the most ambitious and advanced network plans.
Why do you think so many people are stuck on expensive PAYG plans when there are so many cheap alternatives available now? What's the main thing holding people back from switching?
Ultimately people have different reasons and motivations for wanting to pay as you go rather than be forced to commit to a contract. We recognise and respect that consumers should be free to make whatever choice they want regarding how they pay for their mobile service and should not be unduly punished with expensive call rates for pay as you go (which is what we now see from most UK operators). White Mobile changes all this so that consumers can pay and you go AND have exceptionally low rates.
You offer much cheaper international rates than most other companies – is your focus mainly on calling abroad or UK usage?
Both – White Mobile rates are extremely competitive for both UK and international services.
Some of our readers have expressed concern that your prices are too low to be maintainable. What can you say to reassure people you don't intend to bait and switch after you've attracted a customer base?
Our business has been designed from the outset to be profitable from the pay as you go market and the typically lower spending mobile consumer. Our rates provide a decent profit margin even though they are the best available and we are committed to maintaining our competitive position in the UK market. We have no cynical plans to hike rates at a later date – that is simply not in our DNA. With our customer centric approach, driven by Graeme Hutchinson whose leadership helped Virgin Mobile to grow from zero to 5m customers in 5 years, we know we will not disappoint mobile consumers who switch to White Mobile.
What do you think the impact of 4G and the exponential rise of smartphones is going to be on data pricing?
Our data rates are the best available on pay as you go at just 2.5p per megabyte and we also offer data bundles that provide even better value for customers with higher data requirements. We are hugely excited about 4G and the rise of data services and expect to see more services being enabled via data and smartphone and tablet devices. These so called "over the top" services will become the norm and within our family of businesses we are already embarked on this journey with our FooCall and FooTalk smartphone apps.
Finally, where do you see the network in five years?
A profitable multi-national MVNO converged with IP services serving millions of customers with world class products and customer care.
Convincing or just marketing guff? What do you think? We've had a White Mobile SIM card for some time now so we'll have a conclusive White Mobile review in the coming days when all our tests are fully completed. But for the time being, have you tried White Mobile or are you just tempted? Do you think they can keep prices this low? And have they done enough to convince you to switch for good?