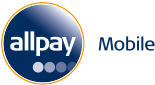 Summary
2G coverage: 99%3G coverage: 97%
Allpay Mobile is a virtual network which means that it does not operate its own network infrastructure. Instead, it buys and rents it from other operators. Allpay is run by Cognatel and actually uses the Vodafone network and its coverage should be identical. This means that it has good 3G coverage although it is not quite as good as other networks such as 3, T-Mobile and Orange. You can check our Allpay Mobile coverage map to find out about the signal strength in your local area.
More info
Allpay Mobile can save you a lot of money compared to some of the main PAYG networks.
For more information, compare Allpay Mobile's coverage with other networks' mobile coverage.