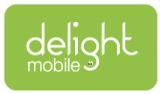 Summary
2G coverage: 99%3G coverage: 93%
Coverage map
Delight Mobile is a virtual network that uses the Everything Everywhere network that is run by Orange and T-Mobile. As you can use the cell towers of both of these providers, this means that it has amazing 2G and 3G coverage across almost all of the UK. Call quality is also consistently great. You can check the Delight Mobile coverage map to find out about the signal strength in your local area.
More info
Delight Mobile has been running since 2011. It is basically a parallel rebranded version of the low-price Vectone Mobile. They are both owned by the same company and both run on EE. Originally they attempted to differentiate themselves from Vectone by disguising their prices under a slightly opaque triple-credit deal but now they just advertising exactly the same pricing as Vectone. The only difference is the name. With some of the lowest prices in the country for PAYG calls and texts, Delight Mobile is a decent choice. They also do well at offering competitive rates for calls to other countries which has made them popular amongst ex-pat communities.
For more information, compare Delight Mobile's coverage with other networks' mobile coverage or check out our complete Delight Mobile review.