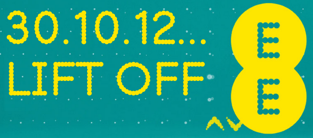 EE – the specialist 4G network run by Everything Everywhere/Orange/T-Mobile has finally released its 4G pricing plans. It's opted to keep it all very simple – all plans come with unlimited calls and unlimited texts. The only choice you have is how much data you want.
Contract prices range between £36/month and £56/month putting them about £5/month more than the equivalent 3G plans on Orange or T-Mobile. Unfortunately no unlimited data tariffs have been announced yet – the most data you can get is 8GB/month. Without further ado, here's the options that are available.
| | Contract with phone | SIM-only |
| --- | --- | --- |
| 500MB | £36 | £21 |
| 1GB | £41 | £26 |
| 3GB | £46 | £31 |
| 5GB | £51 | £36 |
| 8GB | £56 | – |
Our first reaction is that the extra cost above standard 3G services isn't too bad. Compared to the iPhone 5 prices with Orange and T-Mobile on 3G, you only have to pay £5/month extra. For example, an iPhone 5 on Orange or T-Mobile will cost £36/month for unlimited calls, unlimited texts and 1GB data allowance on top of the subsidised price of the handset (which depends on the model you want). With EE you'll be paying £41/month for the same deal but with superfast 4G internet.
EE is clearly playing tactically here – making the price more than 3G but not imposing too great a premium. This way they can emphasise the advantages of having a 4G connection in your pocket while not introducing too great a psychological barrier to entry.
The SIM-only deals are a bit of a surprise but are very welcome. They aren't too expensive either saving you £15/month over the standard contract-with-handset tariffs. This equates to £360 over the course of a two year contract. As an iPhone costs about £360 more unlocked and SIM-free than with a contract on T-Mobile or Orange, this seems about right. We can definitely see the pricing being tempting for some though although it would probably be more due to the unlimited calls than the paltry data limits.
And while we're on the topic of the mobile internet allowances, let's spend a little more time thinking about what you're actually getting. The lack of any unlimited data tariff was expected (they want to rinse as much money out of 4G as possible) but it doesn't make it any more welcome. Mobile networks are still getting away with charging completely unrealistic amounts for mobile bandwidth and 4G seems to only be making things worse. The costs incurred by the networks are negligible compared to the prices they are charging.
As for the proposed limits, we would be tempted to call them ludicrous. What's the point of having an ultra-fast 4G LTE connection on your mobile phone if you're limited to 500MB every month? Using a conservative download speed of 100 Mb/s (and ignoring any uploading) you could power through your limit knowingly or unknowingly in less than a minute. Effectively, if you use the full potential of the 4G connection you're paying a premium for, your monthly allowance can be gone as fast as it takes a smartphone to turn on! Who really thinks that's reasonable for £36/month?
Okay, so admittedly that's not the most usage scenario. Let's consider things people are more likely to be using their shiny new 4G phones for such as watching TV. Let's also splash out a bit and go for the 3GB/month option costing us £46/month. That will last about 4 hours watching shows on iPlayer – that's two episodes of Strictly Come Dancing or only about 8 minutes of TV a day. And each hour long show will cost you £11.50. Are there any shows you think are worth paying £11.50 an hour to see?
Overall, we think it's quite unreasonable for mobile networks to still be charging this much. What's makes it even worse is the fact there are no PAYG or budget options available. If you want a 8GB limit (enough to watch 4 episodes of Strictly or less than 25 minutes of video streaming per day) you have to fork out £56/month. When you realise that this is actually £672 a year and you haven't even accounted for the cost of the 4G phone yet, it puts it into perspective a little. Do you really want to pay almost £700 every year just for fast internet on your phone? While the deals aren't that much more than the standard 3G deals with T-Mobile and Orange, you can do a lot better elsewhere. For example, if you go for a PAYG deal, you can get unlimited data, texts and same-network calls for £12/month – that's a yearly saving of well over 50% or £384.
So there you have it. While ostensibly this doesn't seem too much more than existing price plans, the inflexibility and the terribly meagre allowances make it way too overpriced and almost completely pointless. What's the point in paying for superfast 4G if you constantly have to be watching yourself to not spent too much or go over your limit? And then there's the issue of being locked into a two year contract that we haven't even gone into. So overall, not too great a surprise but still very poor value for money in our opinion. There was a preiod when more and more refreshing unlimited data tariffs were coming out but it seems times are changing again. We're still disappointed that mobile networks seem to think themselves justified in overcharging for data. The only thing that will stop them is consumers not falling for it and letting them get away with it.
What do you think? Are the prices reasonable? Is there any point having a 500MB allowance on a 4G contract? And will you be jumping at the chance to get superfast internet on your phone?