What's that? There's an Apple media event today? Do you think they'll mention the new iPhone? Of course they will.
With most of the details of the new iPhone already leaked, today's launch didn't hold many surprises. All the same, we've got all the stats and details for you right here. Wanna know the name of the new phone, the screen size, the all-important pricing? Read on…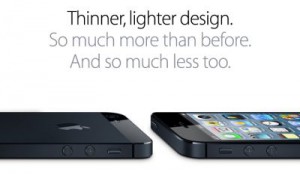 So everyone's guesses about the name were right – it is, of course, called the iPhone 5. Apple's senior vice president of worldwide marketing Phil Schiller started his presentation by announcing the new phone's name. He went on to say that it's the thinnest and lightest iPhone ever. It's only 7.6mm thick and weighs just 112 grams. We'd rather they doubled both of those dimensions and gave it a better battery life…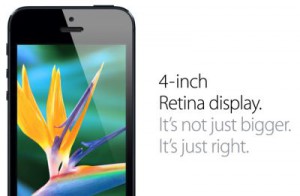 Next, some points were mentioned about the screen. It's now finally caught up to the rest of the smartphone market and is 16:9 widescreen aspect ratio. Phew – no more crappy 3:2 ratio iPhone. It's also claimed that the new screen has better colour saturation. The screen is also bigger at 4 inches and has a 1136*640 resolution. The pixel density is still 326 ppi. It's pretty disappointing there's no HD screen still 🙁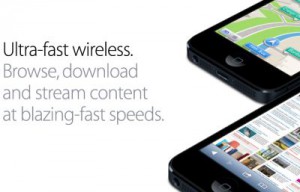 The next big announcement is the 4G connectivity. But it's not that exciting as we all already knew that. Looks like EE (Everything Everywhere) will have a 4G iPhone monopoly for about a year after all. What will 4G LTE mean in practise? Well theoretically it allows for massive fat pipe bandwidth allowing your access to the internet at up to 100Mbps. The reality might not be quite as rosy. In other countries whether 4G is already active, speeds aren't quite at the 100 Mbps theoretical maximum yet and people are having to pay a hefty premium for the speeds. Expect to pay maybe about £50/month for a decent 4G plan. And also watch out for bandwidth caps – it's unlikely we'll see truly unlimited 4G plans unfortunately. Mobile phone companies are still playing catch up in investing in the future.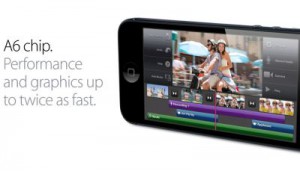 With regard to the rest of the phone's innards, Apple are claiming that the new A6 chip it's sporting will offer twice as fast processing power and twice as fast graphics too. Sounds promising if it delivers. The iPhone 5 has both graphics running off the same main chip unlike the previous 4S which had a separate graphics processor.
What about the battery life? Things aren't that different. After all, lithium ion technology is only improving gradually these days. It seems to have hit a bit of a wall. Still, Apple claim there is over 200 hours of standby time (that's more than 4 days, we'll believe it when we see it). Also, they reckon it will manage 40 hours of music, 10 hours of video and 8-10 hours of internet.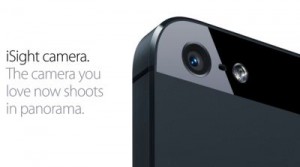 Phil next moved on to the new camera? Can it beat the Samsung Galaxy S3 and high end Nokia Lumia? First of all, the lens delay is meant to be fast and it can take photos at the same time as videos. The camera's sensor is only 8MP but this is still decent for a phone. It sports a ƒ2.4 lens and can record 1080p video at 30 frames per second. Even the front camera can manage 720p recording.
There's also a new connector called "Lightning". Unless you're willing to fork out for a bulky and overpriced converter, that means all your existing chargers, docks, speakers, car adaptors, etc. are now useless. Gee, thanks.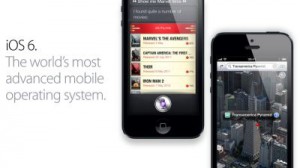 The new iPhone will run a new improved iOS 6. From the presentation, it's hard to make out what's outstandingly new about it though. Siri is slightly improved and there's new Maps but that's about it. Nothing mindblowing. And no mention of NFC at all. For those expecting Apple to catch up with Android by finally introducing widgets and all the other features missing from iOS, they will be a little disappointed. Lame-o!
Finally, one of the most vital stats – pricing. We don't know the UK prices just yet but there will be three models. Unsurprisingly, they come in at 16GB:, 32GB and 64GB. The 16GB will be $199, the 32GB will be $299 and, guess what, the 64GB will be $399. Those are network-subsidised prices! We have no word on pricing details in the UK yet other than it will start at a whopping £529.
So there we go. Wanna get your greasy mitts on one? It's out on 21st September and we'll of course round up all the best deals available in the UK for you.
tl;dr? Here's a round-up of the key points:
It's called the iPhone 5.
7.6mm thick, 112 grams.
It runs new iOS 6.
It taller now – five rows by four columns.
Screen is now 16:9 and 1136*640.
4G LTE. Of course.
A6 CPU is 2x faster than iPhone 4S.
200+ hours standby, 8-10 hours internet.
1080p video, 8MP.
New lightning connector.
£529!
Out on 21st September at 8am, preorder on 14th September.