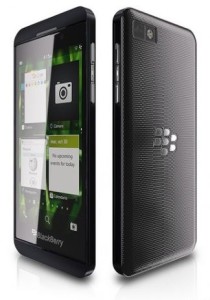 Struggling BlackBerry manufacturer RIM has claimed that the UK launch of its new Z10 smartphone has been the best ever seen. Hard as that may be to believe following BlackBerry's fall from grace over the last several years, RIM released a statement saying that the first week of sales of the Z10 were almost three times as strong as any of BlackBerry smartphone release. No official sales figures whatsoever have been forthcoming, however RIM seems very pleased with itself and there have been reports that retail stores such as Phones 4u have run out of stock.
The Z10 is a new flagship phone running a brand-new operating system that RIM hopes will turn BlackBerry's fortunes around. Not only does it come with the shiny new BlackBerry 10 OS but has also ditched BlackBerry's hallmark QWERTY physical keyboard.
The size of the handset is quite big in comparison to the average and the bezel around the screen is quite wide. Having said that, it fits well in the hand and the 4.2 inch screen looks good – it's high resolution and bright enough for outdoor use.
The Z10 comes with a dual core 1.5 GHz CPU, a decent 2GB chunk of RAM, an 8 megapixel camera and 4G support. Running on this hardware, the new operating system is very smooth although not that original. There are some aspects of the OS that don't seem completely finished yet and the mapping software certainly pales in comparison to Google's offering. It's hard to see the Z10 as anything other than BlackBerry playing catch-up.
Still, it certainly seems like good news for RIM that this handset has been selling well. Of course, it still remains to be seen well it fares in the long term but these initial reports are certainly promising.
Where to get a BlackBerry Z10?
Click through the links below for the latest special offers on RIM's new handset:
Have you ever owned a BlackBerry? What do you think of the new Z10? Have you seen it sold out anywhere. And, most importantly of all, would you buy one?