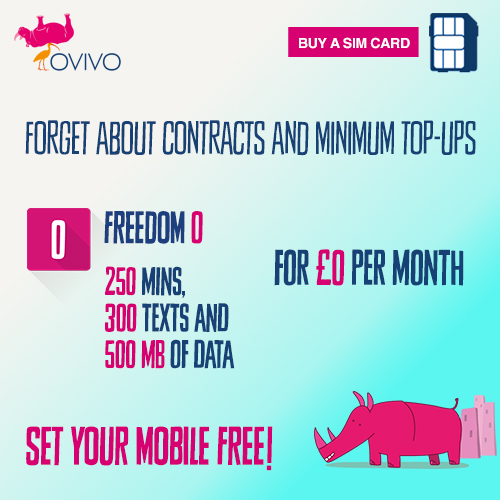 Remember OVIVO? We first looked at them almost two years ago and even had a two-part interview with their founder and CEO Dairush Zand.
Unlike other virtual mobile networks, OVIVO takes a somewhat different approach. It is the only network that is supported by advertising and m-commerce and therefore beats even the most cut-price competitors as they are able to offer free calls, texts and data every month to its customers.
You don't even need to sign up to a lengthy contract or even commit to monthly top-ups – OVIVO is a PAYG network so all you need to get started is an unlocked phone or tablet.
Joining OVIVO
Because of the fantastic value a totally free mobile plan offers, there's a small one-time fee to get started. But from then on, you get completely free minutes, messages and mobile internet every month.
To benefit from these bargain-tastic tariffs, just head to the OVIVO website and order a SIM. There are various choices and you can select the plan that most suits your needs, choosing either Freedom 0 – OVIVO's £0 per month plan – or one of the alternatives. Depending on the plan, some or all of the sign-up fee is returned in the form of credit. For example, with Freedom 0, you pay a £20 sign-up fee and get £15 credit once you've activated your SIM.
Once you're all set up, the Freedom 0 tariff features 200 minutes, 300 texts and 500 MB – the largest free allowance available anywhere.
OVIVO's Tariffs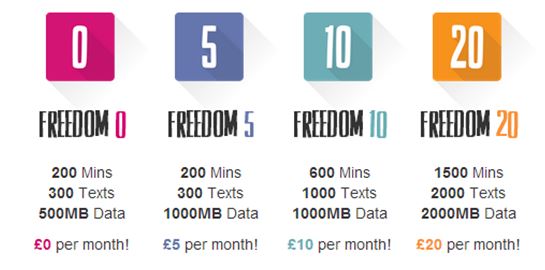 If you have a tablet, MiFi or internet dongle they also offer a very popular Data 0 plan which gives you a whopping 1GB of data completely free every month.
Of course, if you're a a heavier user there are also options that ensure you won't be using up your allowances. For example, the Freedom 20 plan for phones, and the Data 10 options for tablets offer a larger allowance at reasonable prices.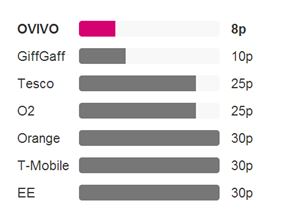 Outside of your allowance, OVIVIO are a great choice too as their standard rates easily beat the major networks. For example, PAYG calls are just 8p per minute compared to 25p on Tesco and O2 and 30p on Orange and T-Mobile.
You'll also be relieved to hear that they have a UK-based help team and that calls to customer services are free from OVIVO mobiles.
OVIVO Rewards
OVIVO rewards its customers with extra free credit as a thanks for porting your number to their network. Another reward comes if you recommend OVIVO to a friend. When your friend activates their SIM they will be prompted to enter your phone number, and you will receive £5 free OVIVO Credit.
The rewards program also includes OVIVO Offers. This is an exclusive service for OVIVO customers, which showcases great discounts and deals from various high street brands such as Argos and Boots.
OVIVO's advertising
Of course, the reason OVIVO can offer such fantastic deals is because they show you adverts in return for free monthly allowances. When browsing the internet on your phone, you just need to watch short unobtrusive commercials that you can skip after 5 seconds.
OVIVO Mobile also promise that they'll only chose adverts that they think you'll be interested in and that they'll never sell your information to third parties. Understandably, they do not allow the use of VPNs or other services that bypass advertising.
Getting started
So what are you waiting for? Head over to the OVIVO site now to get started with what must be the UK's best value mobile network. OVIVO is a pretty unbeatable offer and with no ongoing charges and free minutes, texts and mobile data every month, it's definitely worth picking up a SIM even if you just keep it as a spare.