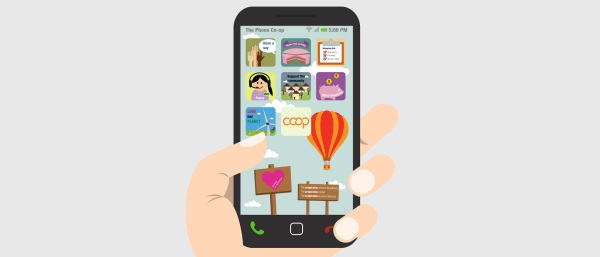 The Co-operative Mobile is a MVNO that's part of The Phone Co-op. Across the whole company they have over 10,000 members and made revenues of over £10 million.
The mobile division is just a part of the whole group but it also operates under the Rochdale Principles which require payment of a yearly dividend that is proportional to each member's spend. Last year, this came to 2.5%. They also offer great UK coverage through EE.
Like many co-ops, they do loads of good and last year they were Accredited as a Living Wage Employer by the Living Wage Foundation. They also sell mobile phones alongside their 30 day rolling contracts and they recently because the exclusive UK stockist of Fairphone's great dual-SIM FPU1 "ethical" smartphones.
We had a chat to ask them a few questions about the mobile network and learn a bit more:
You started with mobile way back in 2010 – can you explain a little more about the genesis of the company as well as the management team and their background?
We were founded in 1998. Originally, we provided landline calls at lower rates than the competition. Since then, we have added broadband, line rental and then mobile in 2010. We have traded profitably every year since our foundation, with the exception of 2005-2006, which was affected by our rescue of an internet co-operative in Manchester, which we incorporated into our business.

Our decision to expand into mobile services was taken in response to demand from our customers and members and to market trends affecting landline revenues and margins experienced during the 2000s. We started with post-paid services in 2010, expanding into Pay As You Go in 2014. This move into mobile has broadened our appeal and resulted in increased revenues and turnover. Last financial year, we made £555,000 profit before distributions.

One problem we have with your question is that we are not a company, we are a consumer co-operative. This means that we are owned and ultimately controlled by our customers who choose to become members. As we are owned my our members we aren't focussed on putting money into the pockets of external shareholders. A customer becomes a member by investing between £1 and £100,000 into our co-operative. Of our 27,000 customers, over 10,000 have chosen to become members, investing £4,650,000 into our business (as of 28th Feb 2014).

In return, they receive interest on their investment (currently 2%) and a share of any profit. Last year the dividend paid was 2.5% of the members' annual pre-VAT expenditure with us. Last but not least, our members benefit from having a say in the way that their business is run and how the profits and cash reserves are invested.

Our management team is experienced and balanced. You can see details of their experience on LinkedIn and our Chief Executive is Vivian Woodell, our Head of Operations is Craig Lumsden, our Chief Financial Officer is Lisa Logan while Fiona Ravenscroft is our current Head of Products.
Good point and thanks for correcting us! What does being a co-operative mean to you personally and why do you think it's important?
Co-operation is embedded in the DNA of our business. We are a consumer co-operative that exists to serve its members, and inspire others with an alternative, better model for business and the economy.

This means that we operate always only with the support of our membership. Our aims and beliefs are not the same as our corporate competitors.

We encourage our customers to think about what they really need and not to consume products for the sake of consuming products! This philosophy resonates with our customers and members and means that our churn rate is lower than the competition. Our members want us to do good with their money, while taking care to offer them the service at the best possible price.

As well as being a co-operative, we are a social enterprise and were recognised as "social enterprise of the year" in 2008. A social enterprise is an organisation that has strong social aims and uses a business model to achieve those social aims, reinvesting all or the majority of its profits to further and support those aims, rather than creating private wealth.
Could you describe the brand in three words?
Co-operative, ethical, competitive.
Makes sense. Now, the MVNO market is incredibly saturated and competitive these days and customers only seem to care about the bottom line – what's your USP and what would you say to convince someone to join?
I would not agree that customers only care about the bottom line; based on an online survey of our Pay As You Go customers that we conducted just recently, 6 months after launching, we have a 91% customer satisfaction rate with 89% saying they would recommend the service to a friend. Our fair pricing is the number one reason cited for customer satisfaction and next to our great rates our co-operative business model is the primary reason our customers mentioned for choosing us. Note also that according to Ethical Consumer Magazine's statistics the ethical share of the retail market is around 5% which is still a lot of customers for an MVNO.

I would say that Our Pay As You Go are competitive rates matching the other supermarket tariffs together with honest pricing and excellent customer service. We explain our proposition clearly, people understand what we're doing and come to us because they want not only competitive pricing but care where they spend their money.

We are a social enterprise and a Living Wage employer. As of October 2013, we had invested £234,000 of our profits in the Co-operative & Social Economy Development Fund, of which £146,500 has so far been invested into ventures such as solar and wind power as well as community pubs and community-owned football clubs. In addition, we have invested more than £622k in solar panels.

Since the business started we have been running affinity schemes; charities, non-profit and co-operative organisations can raise money by promoting our service to their members and supporters and earn a commission based on their members' spend with us. Last year (up to August 2013), we paid over £59k to partners such as The Soil Association and The Big Issue.

Our ethical reputation has meant that we were engaged as the sole UK stockist of Fairphone, a smartphone which puts social values first.
So there you go… That's it for part 1 of our interview. We hope you found it as interesting as we did. And if you have any questions about some of the issues and products covered in this discussion, please let us know in the comments below…