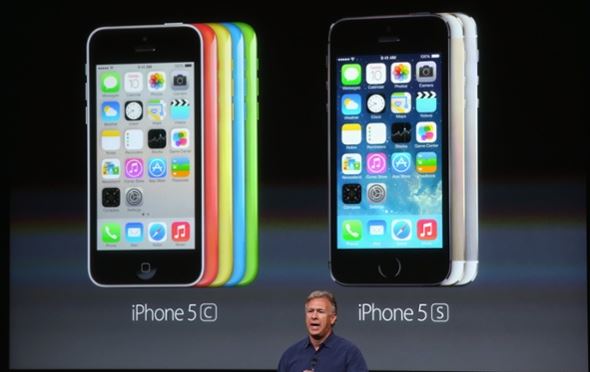 Keep checking back for the latest updates live from Cupertino, California as Tim Cook reveals the new iPhone 5S and iPhone 5C. We'll be updating this post as it happens.
The iPhone 5C and 5S have both been confirmed. The official release date for both phones will be 20 September.
Both running iOS 7. For existing iPhone users, all models from iPhone 4 and above will be getting an optional iOS 7 upgrade from 18 September. The newer iPads will also be getting the update.
iTunes Radio will also be launched on 18 September. It will allow you to create your own Pandora-style stations to broadcast.
iWork – a suite of apps which is a competitor to Microsoft Office – has had its price slashed to free.
The iPhone 5 is being discontinued but the cheaper iPhone 4S will still be an option.
iPhone 5S
Colours: black, silver and gold
CPU: 64-bit A7 processor
M7 motion co-processor continuously monitoring data from the accelerometer, compass, and gyroscope
Fingerprint scanner on home button
Camera: 8 megapixel, f2.2 5 element lens, 15% larger sensor, 10 frames per second burst mode, 720p at 120 frames per second
Battery: 10 hours 3G talk, 10 hours LTE browsing, 10 hours of video
UK prices: 16GB £549, 32GB £629, 64GB £709
US prices:- 16GB $649, 32GB $749, 64GB $849
iPhone 5C
Colours: green, yellow, blue, white and pink
CPU: A6 processor
Display: 4-inch retina display
Camera: 8 megapixel camera
UK handset: 16GB £469, 32GB £549
US handset: 16GB $549, 32GB $649
Our immediate thoughts
It's surprising how little they made of iOS 7.
The security of the Touch ID fingerprint sensor and the fact all its info stays on the device is a big deal in light of Snowden's NSA/GCHQ revelations.
The iPhone 5C is a lot more expensive than expected. Can they really be chasing emerging markets at these prices? In fact, even the 5S is pretty pricey even for Apple devices.
It's been a while since the camera was updated so hopefully the 5S's camera will have much better low-light performance with the bigger sensor combined with the two-tone flash LEDs and larger aperture. Both the 5S and 5C still only have 8 megapixels, though.
The M7 motion processor could have some really exciting applications. Check out this 3DK demo, for example.
The price point of the 5C is a bit of a surprise. Most people were expecting/hoping they'd hit the magical £300 price point and make it a huge seller. However, with the lowest model at £469, it's not low enough to be really competitive with mid-range Android phones. Partly this is the intentional point – Marketing 101 shows that setting a high price gives the impression of quality and value. However, the fact that it's only £80 cheaper than the 5S (that's just over a 10% difference when looking at the 32GB version), you have to ask why anyone would go for the lower specs and plasticy case of the 5C over the 5S.
There's nothing really new in the way of features or specs to report that hadn't already been leaked. It seems each updated version has fewer and fewer innovations…