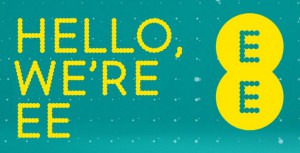 After all their denials and our varied suppositions about the wisdom of a rebrand, it's turned out that the rumours are true. Everything Everywhere is intent on driving home the advance it is enjoying from having a huge head start on the forth-generation (4G) mobile broadband roll-out in the UK. It's going to rebrand itself in Orange and T-Mobile stores as EE to emphasise its position as the only 4G carrier in the country.
For those of you who haven't been following this too closely, Everything Everywhere is the parent company of the super-network formed by the merger of Orange and T-Mobile. When the two networks joined together and merger their mobile infrastructure, they had lots of spare capacity to route their mobile communications. Each mobile network has to buy the rights to certain bands of frequency in the electromagnetic spectrum so hat the different carriers' radio signals don't overlap. When they joined, they ended up with lots spare and, earlier this year, Ofcom approved their request to use this spectrum to carry 4G signals.
All the other mobile networks have been waiting for some time for Ofcom to allow them to bring out 4G services. There's been a much-delayed spectrum auction of spectrum that is necessary to carry the signals. Because there's been such a fuss kicked up about the exact details of the 4G spectrum auction, it's been delayed until late 2013. This meant that, despite the fact that other developed West European nations are already running 4G services, no UK network could offer 4G connectivity before the auction. That was, until Ofcom let Everything Everywhere use their existing 1.8 Mhz spectrum.
So now, Everything Everywhere are the only company with the spectrum available to begin operating 4G services until next year's auction. There was much speculation that they would take advantage of this huge boon by scrapping the crappy Everything Everywhere brand (which most people don't even know about) and launching a high-profile new 4G-only brand. And, even though they tried to pretend this wasn't the case, that's exactly what has happened. On 12th September, they held a massive media event in London announcing the "new" network called EE.
The press conference was located in the Science Museum in South Kensington and had some high-profile guests including bumbling buffoon Boris Johnson. It was announced that all 700 Orange and T-Mobile shops will be rebranded with EE logos. It will be emphasising the speed of 4G which can go up to five times faster than the current 3G services and will also offer high-speed wired broadband. It is hoped that the 4G service will be available in many cities and will be usable for all of EE's 27 million customers soon. As the service is rolled out across the country, the population coverage in 2013 is said to be about 70% with that number rising to 98% by 2014.
The new EE-branded stores will be available for customers of the EE 4G network as well as Orange and T-Mobile customers confirming it as the UK's biggest network. Even the network report on people's handsets will start saying "EE" too. The parent company's official name will still be Everything Everywhere, however, with Orange, T-Mobile and EE being subsidiaries.
Which handsets can get 4G on EE?
Unsurprisingly, only the latest handsets can use the 4g service. The launch devices include Samsung Galaxy SIII LTE, Nokia Lumia 920, Nokia Lumia 820, HTC One XL and Huawei Ascend P1 LTE. Of course, the iPhone 5 will run on EE's 4G LTE network too. Mobile internet dongles and hotspots will also be able to use 4G internet starting with the Huawei E589 Mobile WiFi and the Huawei E392 Mobile Broadband stick.
Where will 4G be available?
EE have already started turning on and testing their 4G network in four major cities – London, Cardiff, Bristol and Birmingham. By Xmas this year, they hope to have a total of 16 areas set up and connected. The other cities to get 4G coverage by then will be Edinburgh, Belfast, Derby, Glasgow, Hull, Leeds, Liverpool, Manchester, Newcastle, Nottingham, Sheffield and Southampton. Presumably, other big cities such as Leicester, Coventry, Bradford, Stoke, Wolverhampton, Nottingham, Plymouth, Southampton, Brighton and Hove will follow soon afterwards.
As the service is still launching, there is no official EE coverage checker yet but you can use the Orange coverage checker and the T-Mobile coverage checker for now.
Will EE be available on PAYG?
No – EE is set to be a contract-only network. You won't be able to get access to 4G without paying contract prices. Of course, Orange and T-Mobile will still offer PAYG options.
Can I keep my phone number if I want to move to EE?
Of course. It will still be really simple to bring your mobile number with you if you want to change network.
How fast is the 4G LTE mobile connection?
4G is technically able to provide speeds of up to 100 Mbps. This is faster than almost all home broadband currently available and it should go without saying that it blows away current mobile internet performance. Of course, it probably won't start off quite this fast and the speeds you get will depend upon how many other people are using it at the same time. However, the possibilities are pretty exciting and the potential for HD video streaming of films and TV and high-bandwidth multiplayer games makes 4G a proposition to watch. The speeds that will initially be offered should be at least 20 Mbps+ and will hopefully rise fairly rapidly.