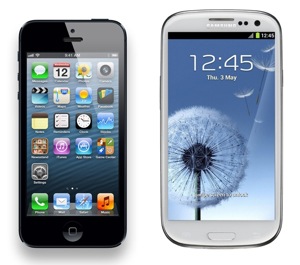 The Samsung Galaxy S3 is still the most popular smartphone in the UK. Even six months after its launch and despite strong competition from the new iPhone 5, Samsung's flagship handset has sold the most units in October according to statistics from the uSwitch Mobile Tracker.
The figures are based upon live searches as well as pre-orders and contract sales. Samsung's S3 coming top again is especially significant as October was the first full month its main competitor, Apple's iPhone 5, has been on sale. The new iPhone had a huge head start with 5 million phones sold in the first three days but sales must have slowed down since then while the Galaxy S3 powers steadily on.
Other smartphones topping the charts include the Sony Xperia U and Sony Xperia T. Samsung is fully in control of the top 10 with the Galaxy Ace, Galaxy Note 2 and the slightly-past-its-best Galaxy S2 all in the high rankings. The other phones at the top of the chart are HTC's powerful One X and the Nokia Lukia 610 running Windows Phone OS. We'll have to wait for the next round of new phones to see the list shaken up a bit by newer entries.
1. Samsung Galaxy S3
2. Apple iPhone 5
3. Samsung Galaxy S2
4. Apple iPhone 4S
5. Sony Xperia U
6. Samsung Galaxy Note 2
7. Sony Xperia T
8. Samsung Galaxy Ace
9. HTC One X
10. Nokia Lumia 610
Do you think the Galaxy S3 is better than the iPhone 5? What's your favourite phone in the top 10? And what new handset are you looking forward to the most? Let us know!