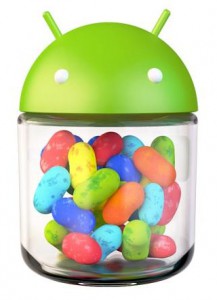 Simply put, Jelly Bean is the latest update for the Android mobile operating system. In case you didn't know, Google have been naming each new version of their OS alphabetically after sweets and desserts and the list so far has been Cupcake, Donut, Éclair, Froyo, Gingerbread, Honeycomb, Ice Cream Sandwich. Yum yum. What better to follow up that list than Jelly Bean which will become version 4.1 of Android.
In reality, it's more of an update rather than a whole new version as the last edition, Ice Cream Sandwich was 4.0 and brought a huge number of stunning new features and redesigns to Android phones. In fact, Ice Cream Sandwich is still so recent that only some of the fanciest phones have got official updates for it yet. Still, that's not to say that Jelly Bean hasn't got its fair share of badass features.
Cementing its position as the most powerful and usable mobile operating system, Android 4.1 Jelly Bean comes with expandable notifications and user-customisable keyboard maps. Also, keeping one step ahead of the limiting and simplistic "grid of icons" design that iOS prefers, widgets are now automatically resizable. Add to this all the great features of ICS and new upgrades to contact photos, the camera app and proper gapless playback, and it's hard to argue against this being the most modern mobile platform around.
One of the best examples of Google's attention to detail is the improvements to the interface dubbed Project Butter. They have tried to make every aspect of your interaction smoother, more graceful and more aesthetically pleasing. While it's not something you'd ever really think about, it makes the daily interaction with your phone that much faster and more pleasant. To show this feature off, Google got hold of a $20,000+ RED camera that shot a video of the phone's interface at 120 frames per second really showing off how fast, fluid and smoothly it runs. Check it out for yourself:
But perhaps Jellys Bean's killer feature is the new Google Now which seems to do everything Siri does on the iPhone and much more. And this time it has a pleasant synthesised voice instead of that harsh robot woman. You can test your phone with all sorts of questions and it will recognise your voice, work out what you mean and give you the answer in a matter of seconds. It can do simple things like set an alarm for Mothers' Day, tell you the films Natalie Portman has been in, how much Bill Gates is worth, the fall in the stock price of Barclays or the height you have to be to ride Space Mountain. What what's even more impressive is it can do calculations in real time, give you real time updates to football match scores and even automatically plan the fastest route to work for the current traffic when it notices you're leaving home in the morning. Pretty neat, huh?
Some of the other notable new features (there are hundreds of them) includes new keyboard and a gestures input method. There's also a much improved browser that runs much faster and has HTML5 tweaks. Your phone can easily replace a GPS abroad too as Maps now has an offline feature as does the voice recognition/dictation feature. Perhaps the coolest thing to try out in practice though is Android Beam which uses near field communication technology to transfer files between phones by simply touching them together.
But when can you get this in your eager hands? As mentioned earlier, you need to have a fairly new handset to run Jelly Bean now but it will be slowly rolling out onto more and more devices. The Google branded phones such as the Nexus S and Galaxy Nexus will get it right away as will the Nexus 7 tablet. Other tablets such as the Motorola Xoom will get it and it should be possible to manually upgrade many phones if you want. Still, if you have an ancient phone and are drooling so much you have to upgrade, now might be time to invest in a Galaxy S3 🙂
So, are you desperate to get Android Jelly Bean on your own phone? What's your favourite feature? And is it good enough to convince you to upgrade your handset? As usual, please drop us a comment 🙂