The People's Operator (also known as TPO) is a virtual mobile network that was launched on 19 November 2012. It markets itself as a "ethical" mobile provider and aims to turn talking into a force for good by building a network that's hardwired to support charitable causes. The network's co-founders are Andrew Rosenfeld whose been involved in some very successful businesses and is Vice President of NSPCC, Mark Epstein who has a great track-record in communications and Tom Gutteridge an expert digital communications entrepreneur. Together, they had complete ownership of the partnership at launch.
As part of their ethical philosophy, 25% of their profits are given away to the TPO Foundation, a registered charity that is chaired by Sir Christopher Kelly. In addition, at no extra cost, customers can donate 10% of their monthly spend to a cause of their choice. The Foundation has already established partnership agreements with charities such as Childline, The Trussell Trust and The Big Issue Foundation.
Since 20 January 2014, TPO have also been working with Wikipedia co-founder Jimmy Wales who was appointed as co-chair of the organisation's board. This appointment coincided with a period of rapid growth and the stated intention to list the network on the Alternative Investment Market at an estimated value around £100 million. In 2015, the operator has also been finalising plans to launch a new advertisement-free social network called the TPO Community.
The People's Operator originally chose to use EE's backbone in the UK because it was the first 4G network in the country but now have partnered with Three starting in 2016.
Overall, with decent PAYG rates as well as great value monthly bundles and the ability to help out good causes at no extra cost, TPO is proving to be a very successful network as well as a powerful cause for good.

The People's Operator review
Contents
Summary
After ordering a SIM from the website, it will arrive promptly and you're good to get started. The packaging is neat and attractive and it was a particularly nice touch to see the note from "Chris from Essex" on the sealing sticker at the back of the envelope as well as the notice regarding the fact that the packaging used recycled paper. It's small touches like this that can really make a difference.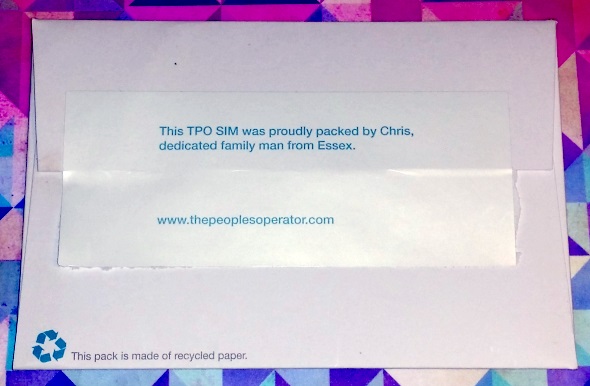 Inside the compact envelope you'll fine a SIM card and some basic instructions ready to get your started on the TPO network. We had no issues at all getting everything set up and running and the whole process was difficulty-free.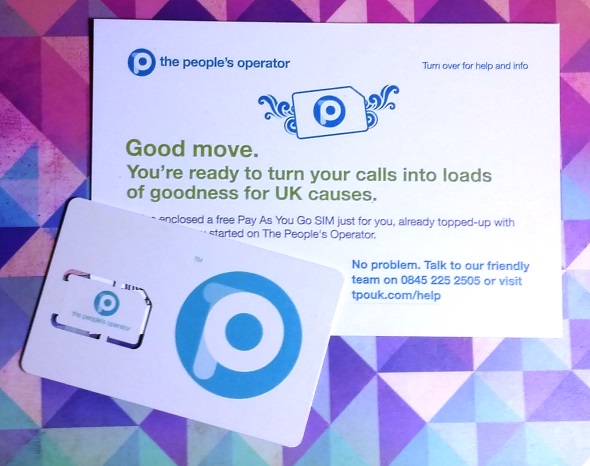 PAYG Pricing
As well as offering an ethical option, TPO also is one of the best value choices for a mobile network in the UK. You're certainly not subsidising their charitable work with extra fees. Compared to the major networks as an alternative it's a complete no-brainer and in fact, they keep bringing out deals and cutting prices to ensure they are competitive with any alternative choice.
At a glance
Calls: 4pTexts: 3p Data:1p/MBMMS: 30p0800: 0p0870: 5p
Details
You can't go wrong by choosing TPO based on price. They are, without a doubt, incredibly cheap compared to any other PAYG mobile network. Big names such as O2 or 3 charge 30p or more per minute for calls and up to 12p just for sending a text message. With TPO you'll just be paying 3p for an SMS and only an incredible 4p/minute when making calls from your phone.
Even better it also has the best pricing for mobile data available at just 2p/MB. This is especially important now more and more of us rely on our phones as portals to the world wide web. And it means that you don't need to worry so much about the cost of looking up directions or checking your emails.
Pay Monthly
The People's Operator didn't stop there when trying to offer incredible prices for their customers. They also have been pushing the boat out offering some staggeringly-cheap monthly SIM-only deals exclusively to their customers. At the moment, their 4G-enabled "Goodness Plans" seem pretty unbeatable. Perhaps the best value offing gives 600 any-network minutes, unlimited texts and a 2GB chunk of 4G mobile data for just £6.99/month. Spending just £3.99 gives a monthly allowance of 0.5GB, 200 minutes and 500 text messages.
But we suspect one of the most-popular options is the market-leading £15 deal. This buys you a mighty 4GB of data along with unlimited texts & a massive 1200 minutes of voice calls! They still give away 10% of your monthly spend too so it's got a feelgood factor as well!
To compare TPO's latest pricing with that of other networks to show just how much cheaper it is, please check out our conclusive mobile price comparison table.
Coverage
Summary
2G coverage: 99%3G coverage: 98%4G coverage: 88%
Coverage map
TPO are moving over to the well-regarded 3 network as their provider mainly due to their excellent data network. Please see our TPO coverage page to learn the network coverage in your area. For more information, compare it with other mobile phone networks' coverage.
Round-up
Thanks for reading this review. We hope it's given you a much better idea about what using The People's Operator as your mobile network is actually like.
To conclude, TPO is a great choice if you're looking for a new monthly deal. Not only do you have the satisfaction of doing something good but they are an increasingly serious contended for the best virtual network in the country. They are very professionally run with a commitment to quality service on the Three network as well as great value.
For a price-conscious customer, there's a lot to recommend TPO as their deals are getting better and better and their monthly bundles are probably the cheapest going. It's pretty clear that not only do they offer easily the most conscience-friendly option available in the UK but they're also pretty unbeatable on price and service too. It really is a win-win choice and, overall, we highly recommend them 🙂

Rating
Our final review score is determined by our readers – give your own rating to TPO below:
The People's Operator

,