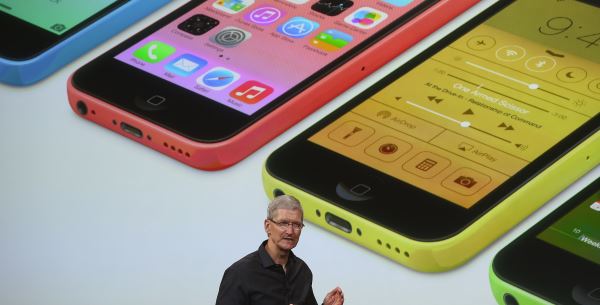 Apple shares have fallen by over 3% following reports of its fiscal fourth-quarter results. It was the third quarter in a row that Apple have had to admit that their earnings have fallen. This is despite it breaking yet another record for the amount of iPhones it has sold following the release of the new iPhone 5C and iPhone 5S.
In total, Apple reported that it increased the number of iPhones sold by over 25% and shipped more than 30 million handsets. iPad sales also went up by a tiny amount to just over 14 million, but Apple Mac computers are struggling with under five million sold in the quarter. As a result, Apple claimed that it had quarterly revenues of just under $40 billion and net income dropped slightly to about $7.5 billion.
The share price drop came due to fears about sales figures for the new iPhone 5C. Analysts have been concerned that the 5C doesn't offer anything new over the existing iPhone 5 and that the plastic back may turn off consumers hoping for a more premium-style product. It has been claimed that the 5S, despite costing a lot more, has outsold the 5C in every market even in much poorer regions.
Apple still has amongst the biggest margins known in technology. While Google's Nexus range of phones and tablets have razor thin margins or are even sold at a loss, it's been widely publicised that Apple makes huge amounts of profit on the cost of components in its iPads and iPhones.
What this means is that if you buy an iPhone 5C for about £500, only about £200 of that money is going towards the costs of the components inside it such as the CPU, screen, memory, cameras, and radios. A tiny fraction pays for the manufacturing costs as well as international distribution and the remaining amount, which is roughly 70% of the sale price, go straight to Apple as pure profit. Of course, Apple products don't have external SD card slots so if you want to update the internal storage you'll also have to pay vastly in excess of the market rate for that.
It should be no surprise that it is estimated that around 50% of Apple's revenue comes from its iPhone sales. Despite this, it appears that shareholders think that Apple still aren't doing enough. Another hope was that the 5C would be priced much lower to tempt in consumers from emerging markets such as China and India. However, the retail price for the 5C means that Apple is risking being seen as solely a high end niche player according to tech analysts.
Meanwhile, even though Apple is raking in frankly obscene mountains of cash, the competition isn't doing too badly either. Halfway through 2013, Samsung had almost a third of worldwide smartphone sales compared to Apple with under half of that and Android is now dominating the market with almost 80% of smartphones running Google's operating system. Still, the future is anything but clear…
What you make of Apple's latest revenue figures? Were you surprised to see the numbers that they reported? You think that the iPhone 5C will underperform? And where do you see Apple two years, three years and even five years from now? Let us know your thoughts and opinions in the comments below.