So we've tallied the entries and crunched the numbers and we're ready to announce the winners of our grand February competition. Thanks to giffgaff and to everyone who took part in the giveaway. Hopefully we'll have even more exciting prizes for you to win later on in the year.
But, without any further ado…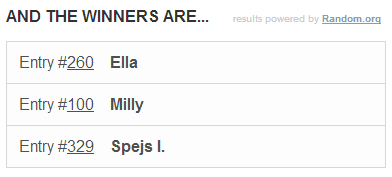 Ella takes home the brand-new iPhone 4S, Milly is the new owner of the Samsung Galaxy SII case and Speja will soon find a cute little USB car charger in the post.
Congratulations to all three of you!
Another giveaway: free giffgaff credit:

And remember, even though the giveaway is now over, we're still offering all our readers £5 bonus credit when they order a free Giffgaff SIM card.
Giffgaff is still the best-rated network in the UK as voted for by you and has great PAYG rates, cheap international tariffs and amazing-value goodybags. For just £10 on a no-commitment monthly rolling basis, you get a massive 500 any-network UK minutes, truly unlimited UK texts and 1GB of tetherable mobile data. You also get completely free calls and texts to all giffgaff numbers.
Order your free SIM today for £5 free credit to get you started.