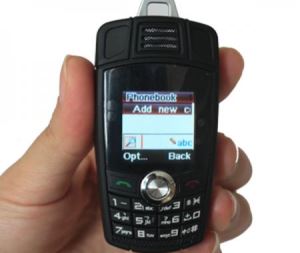 Tiny mobile phones designed to resemble wireless car key fobs are increasingly finding their way into the UK's prisons. Prisoners are only allowed to make phone calls through overpriced shared landlines on prison corridors and being in possession of a mobile phone inside is a criminal offence. However, the rise of miniscule and easily-concealable key fob phones built in China means that its easier than ever for convicts to get hold of an illegal phone.
For many it's a vital lifeline to keep in touch with friends and family especially given that the breakdown of these relationships is one of the strongest indicators for reoffending. But the prison service can condemned the sale of these phones as they are seemingly designed specially to make them easy to smuggle into prisons. The mobile phones sell from as little as £35 each and they are manufactured with minimal amounts of metal inside to evade special phone-detecting chairs installed in prisons.
Despite the fact that it's a severe criminal offence, thousands of contraband mobiles are seized in prison each year. And the Chief Inspector of Prisons has admitted that it's well known amongst staff that illegal mobile phones are owned by a huge proportion of prisoners. Nick Hardwick has actually called for a better way to give inmates more regular phone allowance that would be better managed and supervised so as to cut down on the use of illicit mobiles.
In response to the news, a Prison Service spokesperson claimed that they are working with Soca – the Serious Organised Crime Agency – as well as Trading Standards to "ban" key fob phones. Quite how they would be defined and how this would work is another matter entirely. And, as we all know, it won't make any difference as it will still be trivial to import the devices from abroad.
In actual fact, it seems that Soca's involvement is simply to issue alerts to car manufacturers who are having their logos and trademarks used without their consent. However, altering the phones to avoid copyright infringement would seem to be a simple way to sidestep any attempt at a "ban".
The cynical observer would claim that this is another excuse to weasel out of installing proper mobile frequency jammers on prisons that would end the problem if they were seriously and genuinely concerned about inmates' use of mobile phones. However, the Prison Service may well be reluctant to introduce this idea as it would prevent their staff using their own mobiles while at work. And install a mini-cell tower with an IMEI whitelist would be too expensive to tackle what is tacitly accepted as a minor problem.