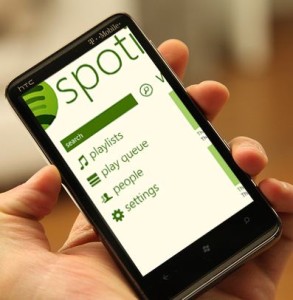 Spotify, the subscription-based streaming music service in now available on Windows Phone 8 handsets. If you have a smartphone and like to listen to music, it's one of the must-have apps currently available. The current release is still officially a beta form but we haven't noticed any obvious creases or bugs so there's not reason not to go ahead and install it now.
For those who don't know, Spotify is a cloud-music service that lets you listen to any song from a massive library of millions of artists' catalogues. You don't need to own any of the records to listen to them and all music is streamed from the web rather than downloaded permanently onto your PC or other device. Without a doubt, Spotify's library of artists is truly impressive both in depth and range. You'd be hard pressed to find a song that's not on there (as long as it's already out) regardless of whether it's the latest Top 40 hit or a new single from a tiny band in your village.
Spotify is a free service but the catch is that you're limited to a certain monthly allowance of music streaming and you're forced to listen to advertisements in between songs too. You also can't use the mobile phone apps with a free account. In order to remove the ads, unlock unlimited listening and get music on the go, you need to pay a £10 subscription fee – about the same price as buying an album a month.
There are a few issues with Spotify – the ads are annoying and repetitive and if you pay for a subscription, you lose all access to your starred tracks if you ever let it lapse. Also, for a cloud-based service it is not well user-oriented. Each of your devices is treated entirely separately so if you start listening to a record on your phone it's not simple to finish off the LP when you get back to your computer or tablet at home. Also, it's a peer-to-peer (P2P) app meaning that you'll be using up some of your upload bandwidth allowance distributing music to other users so that the Spotify servers don't get overloaded. This isn't great for people with a low monthly data limit.
However, these relate to the service itself (which will hopefully improve) and not to the app in particular. If you already use Spotify and are happy with it, the app is pretty much an obligatory download. The app looks great on Windows Phone 8 devices with a really lush and clear interface. It's also very easy to use and navigate between artists, albums, songs and playlists. It's even simple to share music amongst other Spotify users.
You can download the app free of charge now. And if you're not already a Spotify subscriber, you can even sign up for a free 30 day trial to check it out for yourself.
Are you a Spotify user? Have you used Spotify on a smartphone? Or is there another music subscription service that you prefer? Let us know 🙂