Our site has been giving a lot of attention to the Apple and Android devices lately, but what about Windows Phone and Nokia? If you've got a new Nokia Lumia 800 you may feel a bit disappointed about covering up the colorful phone design with a bulky case, but there are some out there that offer a decent amount of protection whilst keeping your phone looking swell.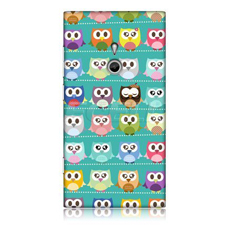 Ecell's Head Case Designs range may not be the most protective of cases for your Nokia Lumia 800, but they are extremely stylish and there are many different designs to choose from. The case itself is made of plastic and attaches itself to the back of your handset giving your Lumia a little bit of extra grip and a small layer of protection if you happen to drop it.
The Head Case designs range don't wrap around to the front of your phone so it may look less attractive if the case colour conflicts with the colour of your device, and if you drop it on a hard surface, it isn't really going to do much to impact the fall. However, with the sheer range of high-quality designs, they are sure to add some colour to your Lumia 800.
| | |
| --- | --- |
| Price | |
| Protection | |
| Durability | |
| Style | |
| Portability | |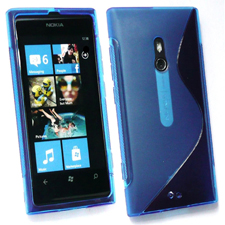 The Lumia Wave case consists of a hard silicone gel and covers your Lumia 800 with a stylish wavy design. The case will snugly house your phone without any major difficulties and gives it a sturdy, yet lightweight feel.
The case only comes in a blue colour, but there is also a red polka dot version and a purple colour for anyone who doesn't like the blue design. The case does seemed to be aimed at females yet.
The silicone case itself feels impressively tough for the price, and it's likely to do a great job of keeping your Lumia in shape whilst preventing it from getting any scratches from day-to-day use around the house.
| | |
| --- | --- |
| Price | |
| Protection | |
| Durability | |
| Style | |
| Portability | |
Was £4.99 Now from £2.99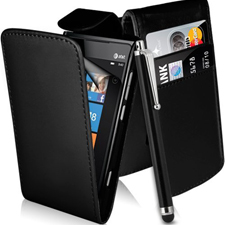 For only £3, Supergets are giving Nokia owners the opportunity to get their hands on a decent leather case, a stylus pen, a screen protector, and a polishing cloth. The leather case has a plastic clip to attach your Lumia to, and a few pockets to keep credit cards or cash in. It has convenient holes for the camera, charger port and headphone jack which will keep you from fiddling around with your phone and taking it in and out of the plastic hold. This is especially important with the Supergets flip case as the plastic feels a little tacky and will break easily under pressure.
As for the other accessories, the stylus pen is useable, but perhaps a little on the thick side; it's useful for cold days or writing neat notes, but personally I'd find it far quicker and more convenient to use my fingers. The screen protector is a little difficult to place on the Lumia correctly, and if you muck up it's gone, but it is nice Supergets have included this in the package. The same goes for the small cleaning cloth which is handy for stopping grease and dust from clogging up your phone.
The leather itself is quite thick and will protect your device from any damages or common falls that your phone may come across in its lifespan. The Supergets flip case also comes in a few different colours at different prices.
| | |
| --- | --- |
| Price | |
| Protection | |
| Durability | |
| Style | |
| Portability | |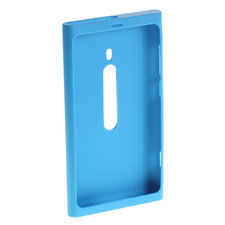 The Nokia CC-1031 is an official accessory for the Nokia Lumia 800, which means it could possibly be the most protective compared to third party accessories, but it's also probably the most expensive.
If you're happy with the black colour, you can grab yourself a case for a very pleasing £3.85, otherwise you'll have to fork out around three times that amount for a more attractive coloured version.
The case is made of rubber and can easily be taken on and off the Lumia 800 without splitting, and manages to keep a super slim form factor when using it with your phone. The rubber case does a good job at absorbing the impact of small drops, but from a higher distance from the ground, and other variables that could happen in a natural environment, it's hard to tell if the the extra price does the overall product a bit of an injustice. It's very easy to access all the phones physical buttons and ports when using the case though, and the official name definitely gives us the satisfaction of a decent quality control over the items before shipment. Overall, it's a smart and functional case for a decent price.
| | |
| --- | --- |
| Price | |
| Protection | |
| Durability | |
| Style | |
| Portability | |
Was £19.99 Now from £14.41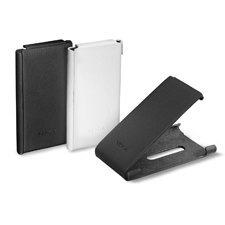 The Functional Case is another product by Nokia so its quality is of a much higher standard than most other accessory suppliers, and it fits tightly to the Lumia 800's chasis. The leather has been smartly moulded around the plastic holder instead of being stitched, and unlike the Supergets case, the plastic is sturdy and durable. Surprisingly, the case isn't all that thick and fits in your pocket without any hassle.
The leather case comes in black, white and brown, at a few varying prices, with the white one being the cheapest at £14.41, which is currently saving you over £5.
The leather flip design won't be for everyone though, and although the magnetic clip is tucked away neatly, it covers the USB charger and SIM slot which for some may be quite frustrating.
In summary, it's a great-looking case and, as well as being smart, it will do the job of looking after your phone. The product is more expensive than the other cases on the list, but for more money you're paying for a better constructed product that will keep your device safe from all sorts of bumps and falls in its rather lengthy life time.
| | |
| --- | --- |
| Price | |
| Protection | |
| Durability | |
| Style | |
| Portability | |