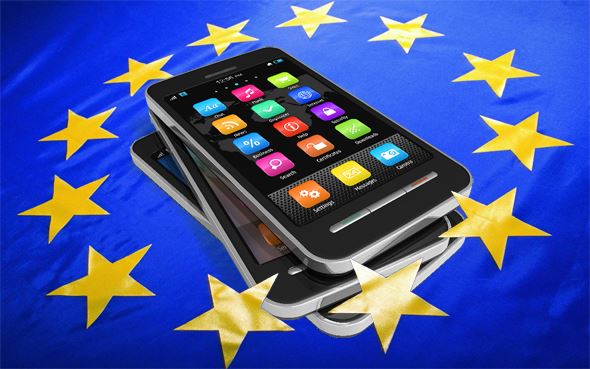 From the beginning of this month, the latest price cap on EU roaming came into effect. European leaders have slashed the maximum phone companies can charge users roaming away from their home networks so that, as of 1 July, browsing the web and using data when travelling in Europe will only cost half as much as before. Not only smartphone users will benefit either – these changes also have heavily cut the price of making calls and texts whilst abroad.
As we first reported back in May 2012, European Parliament has enforced EU–wide roaming rules including price caps for all networks operating within the European Union.
The new price caps which kicked in at the start of this month mean that the price of making calls will drop by over 20%, from €0.24/minute to just €0.19/minute. Receiving calls whilst roaming has also benefited from a lower price cap. The maximum cost per minute is now only €0.05 compared to €0.07 before.
Historically, charges for SMS texts have been sky-high in domestic markets and just as bad for roaming customers. However, the price per SMS has also dropped again to a rate of €0.06/message. Do remember that all the prices we've quoted so far are excluding VAT so don't forget to add on the relevant taxes.
Perhaps the most vital change for visitors to Europe is the fact that roaming data charges have fallen significantly once again. More and more often we find ourselves scouring for free wifi access points to keep in touch with friends and check for vital emails. And in the past, the temptation to switch on data roaming has resulted in phone bills even running into hundreds of pounds following a quick break to Europe.
Before the price caps first came in during the summer of 2012, there was no limit at all on the cost of data roaming within the EU. It wasn't uncommon for operators to charge several pounds for a single megabyte of transferred data which meant even just emailing a few photos home could cost £100.
Originally, the regulations started with a price cap of at €0.70 per megabyte. While this is still incredibly expensive and many orders of magnitude more than you would pay the same amount of data in the UK, at least caps the amounts that you would have to pay if you do need to use the Internet whilst travelling in Europe.
The latest price decrease sees this amount fall significantly to just €0.20 per megabyte of data used. This is a drop of almost 75% from then and even is less than half the price being charged before July this year.
Another aspect of the EU regulations is the ability for consumers to choose which network they want to roam on when they enter a foreign country. We really welcome this move as it will only serve to encourage competition between the various mobile operators and hence drive down prices for users. The regulations also safeguard reasonable prices until at least the middle of 2017.
It's also worth noting that these are absolute maximum price caps. There's nothing to stop networks charging less than these amounts and, overall, the European commission's work which has been in progress for five years now has seen consumers benefit from massive retail price reductions over the last few years.
For full details of the coming price caps that have just come into force, see below:
Retail pricing (ex. VAT)
| | Pre July 2012 | 1 July 2012 | 1 July 2013 | 1 July 2014 |
| --- | --- | --- | --- | --- |
| Data/MB | None | €0.70 | €0.45 | €0.20 |
| Outgoing calls/minute | €0.35 | €0.29 | €0.24 | €0.19 |
| Incoming calls/minute | €0.11 | €0.08 | €0.07 | €0.05 |
| SMS/each | €0.11 | €0.09 | €0.08 | €0.06 |
Wholesale pricing
| | Pre July 2012 | 1 July 2012 | 1 July 2013 | 1 July 2014 |
| --- | --- | --- | --- | --- |
| Data/MB | €0.50 | €0.25 | €0.15 | €0.05 |
| Calls/minute | €0.18 | €0.14 | €0.10 | €0.05 |
| SMS/each | €0.04 | €0.03 | €0.02 | €0.02 |
What do you think of the latest price cuts? Are you pleasantly surprised or do you think they could have gone further? And what's biggest phone bill you've ever been hit with after using your mobile abroad?