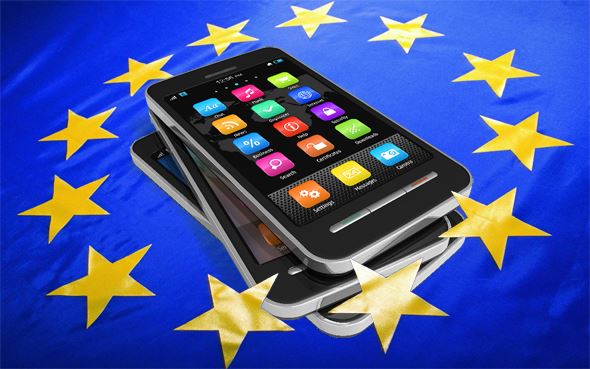 Since the start of July earlier this week, the cost of using your phone abroad when travelling in the EU has dropped significantly. As we first reported back in May last year, European Parliament has enforced EU–wide roaming rules including price caps for all networks operating within the European Union.
As a result the new price caps just kicked in on 1 July 2013 and mean that the price of making calls will drop by over 17%, while the amount you have two pay to receive calls when abroad has fallen by about 12%.
The new retail pricing means that you have to pay a maximum of €0.24 per minute for outgoing calls and €0.07 per minute for incoming calls. These prices are all excluding taxes so don't forget to add on the price of VAT.
As for the price of sending SMS text messages, this too has dropped by over 10% falling from an ex. VAT price of €0.09 to the current price of just €0.08 each.
Perhaps most importantly for tourists planning trips abroad in the EU, data charges while roaming have also fallen significantly. Traditionally, it's been very easy to be caught out and end up with phone bills even running into hundreds of pounds following a quick break to Europe.
Even though nowadays almost all smart phones come with data roaming disabled by default many people don't understand the settings and quite frequently leave background data services running when they go on holiday. The result is that their phones are constantly uploading and downloading data without them realising and before 1 July 2012 there was no price cap on data roaming within the EU. It wasn't uncommon for operators to charge several pounds for a single megabyte of transferred data me that it would cost several pounds just to send a photo by e-mail.
However, when the regulations first kicked in on in summer last year, the data price Was introduced at €0.70 per megabyte. While this is still incredibly expensive and many orders of magnitude more than you would pay the same amount of data in the UK, at least caps the amounts that you would have to pay if you do need to use the Internet whilst travelling in Europe.
The latest price decrease sees this amount fall significantly down to just €0.45 per megabyte of data used. This is a drop of over 35% and will certainly make checking your e-mail or catching up on news home a lot more affordable.
Another aspect of the EU regulations is the ability for consumers to choose which network they want to roam on when they enter a foreign country. We really welcome this move as it will only serve to encourage competition between the various mobile operators and hence drive down prices for users. The regulations also safeguard reasonable prices until at least the middle of 2017.
It's also worth noting that these are absolute maximum price caps. There's nothing to stop networks charging less than these amounts and we hope to see more and more mobile operators offering competitive rates for people holidaying abroad.
Overall, the European commission's work which has been in progress for five years now has seen consumers benefit from massive retail price reductions over the last few years. In fact, many rates are set to halve since 2011 which can only be a good thing.
For full details of the coming price caps that have been introduced over the last two years the see the tables below:
Retail pricing (ex. VAT)
| | Pre July 2012 | 1 July 2012 | 1 July 2013 | 1 July 2014 |
| --- | --- | --- | --- | --- |
| Data/MB | None | €0.70 | €0.45 | €0.20 |
| Outgoing calls/minute | €0.35 | €0.29 | €0.24 | €0.19 |
| Incoming calls/minute | €0.11 | €0.08 | €0.07 | €0.05 |
| SMS/each | €0.11 | €0.09 | €0.08 | €0.06 |
Wholesale pricing
| | Pre July 2012 | 1 July 2012 | 1 July 2013 | 1 July 2014 |
| --- | --- | --- | --- | --- |
| Data/MB | €0.50 | €0.25 | €0.15 | €0.05 |
| Calls/minute | €0.18 | €0.14 | €0.10 | €0.05 |
| SMS/each | €0.04 | €0.03 | €0.02 | €0.02 |
Have you ever been caught out by unexpected mobile roaming bill after holidaying abroad? How much is your mobile network charge for roaming fees when in Europe? And have they adhered to these new European regulations or do they even charge slightly less?