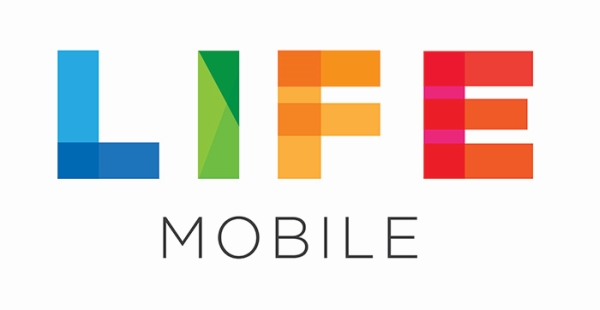 LIFE Mobile is a virtual network offering 3G coverage to 99% of the UK population, on the EE network. They've just released some new monthly deals that offer excellent value from under £5/month on a SIM-only rolling tariff.
Currently, LIFE Mobile offers the following four SIM-only deals with 30 day bundles: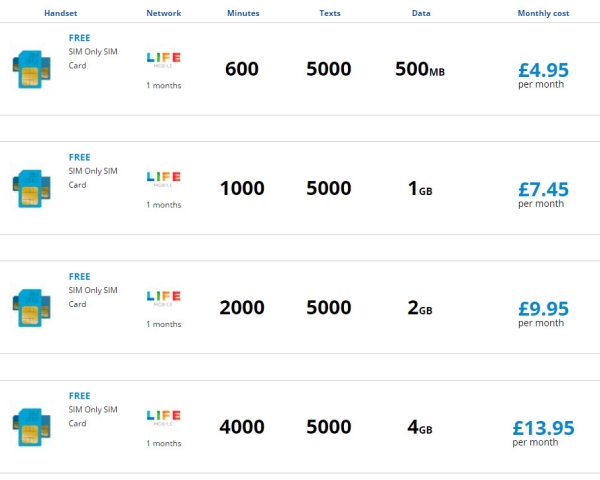 A key feature of the LIFE Mobile offering is their Smart Cap option. It is intended to give you better control over your monthly data expenditure. Smart Cap gives you a small buffer to limit your out-of-allowance charges. The default setting is £5 but you can call them and change this to anything from £1 to £30.
For example a Smart Cap of £1 on the £4.95/month tariff, your monthly bill from LIFE Mobile will never exceed £5.95. This is a great feature if you are paying the monthly bills on your children or someone else's phone. You will never get an unpleasant surprise at the end of the month with Smart Cap.
LIFE Mobile's cheapest offering at £4.95 has no rivals. If you are connected to BT Broadband you will get 200 minutes with 500 MB of data at a discounted rate of £5.00. This is 400 minutes less talk-time than you will get with LIFE Mobile.
Giffgaff can only offer 250 minutes talk-time and 500 MB data for £7.50. They do have a less expensive option at £5.00 per month, but that only gives 125 minutes talk-time, 500 texts and 100 MB data.
TPO offer some incredible deals but are also outdone by LIFE Mobile's pricing. Their best priced option costs £5.99 and only offers 100 minutes of talk-time, 100 texts and 500 MB data. For £8.99 TPO still falls short with airtime at 300 minutes, but they offer unlimited texts and 2 GB of data which LIFE Mobile only offers in their £9.95 package. But LIFE Mobile supply 1000 minutes of airtime and 1 GB of data for £7.45. The choice is really whether you use your phone more for talking or for applications which will use up your data. For many users, data is less important since they are often in Wi-Fi zones where they do not use their data at all.
For anyone with their own unlocked mobile phone there are few strong alternatives. LIFE Mobile offers a true budget beating way to get connected. And their UK based call centre has been getting very good reviews from customers. This strong offering puts LIFE Mobile amongst the top UK virtual networks and completely trounces the likes of Vodafone and O2.