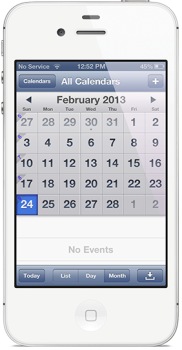 We're now well into March and it's time to have a look over the previous month's news from the world of mobile phones.
In February we've had some interesting technology headlines. The month started off with lots of new Android phone rumours and the announcement of HTC's new M7 flagship smartphone. The HTC CEO Peter Chou revealed it before Chinese New Year and took some photos with its massive 13 MP camera. It was later revealed that the official name will be the HTC One and it will come with a 1080p display, a quad-core 1.7 GHz CPU and 2 GB of RAM.
Other Android phones announced were the new Intel x86 powered phones and the Samsung Galaxy IV strongly hinted for an April (or even March) release. Just in time for Android Key Lime Pie which is due soon after.
We also got rumours about new Windows Phone devices, the Lumia 520 and Lumia 720. Both will have 1 GHz CPUs and half a gig of RAM and will be fully announced later at Mobile World Conference.
February saw iTunes hit 25 billion song sales. That's a lot of albums. In other Apple news, the Exchange calendars bug was fixed with the release of iOS 6.1.2.
RIM also launched their new version of their mobile OS, BlackBerry 10. They also announced their new handsets, the traditional Q10 and the touchscreen Z10.
But enough of that. Continuing our round-up, here's our selection of the very best articles and news stories from February. If you missed them the first time round, they're well worth going back to take a look at.
In this post we looked at an interview with ex-Mircosoft CEO and tech kingpin Bill Gates. In it, he hinted that Microsoft is willing to admit that they completely misjudged the smartphone market. Microsoft were initially very dismissive of the iPhone when it first came out but since its massive success, they have been desperately trying to play catch up in the mobile field. And not just because they are struggling with the dwindling importance of their traditional strong point – desktop computing. Only time will tell whether they are too late.
It's been a long time coming by Ofcom finally completed the final round of the much-anticipated 4G mobile spectrum auction. In the end, there were a couple of surprises but some people were most shocked by the fact it raised over £1 billion less than expected. We contributed some analysis as to why the auction was such a flop and how this is going to affect George Osborne in the run up to the next budget. Our other article went into more detail about just how much spectrum each company bought, whether you're likely to get a better signal now and how it shifts the field for the nationwide roll-out of 4G services.
Finally, thanks to a report from the GSM Association we took a peek into the future where mobile data is predicted to change the way we live. The pervasiveness of high-speed mobile internet access around the world is expected to make a huge difference to our lives especially in healthcare, transport and education. Could there really be savings of £250 billion just from mobile phone networks?
We hoped you liked our look back at the month of February 2013 and checked out our favourite articles. What were your favourite news stories?