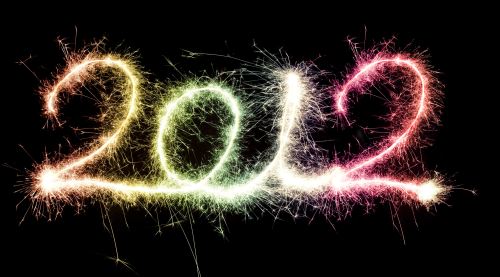 Wow, what a year 2012 was. Felix Baumgartner smashing into the record books with his 24 mile space jump, the amazing success of Team GB and their 65 medals at the London Olympics, austerity hits the Eurozone while €100 billion of Greek debt was written off, the Queen's Jubilee and of course the violence in Syria.
Of course, a lot went on in the world of mobile phones too. Some of the biggest news events of the year include the launch of the long-awaited iPhone 5 and the reports that Nokia has finally lost its crown to Samsung after fourteen years at the top.
That's not all. RIM got a new CEO, HTC changed its focus after a dodgy 2011 and the 4G auction got delayed again and again before we got a brand new mobile network with EE who finally brought 4G to the UK. Also, the latest version of Android was adopted quicker than ever and the Apple App Store had a gargantuan 20 billion downloads!
Phones-wise, we also had the release of the mighty Samsung Galaxy SIII, the Nokia Lumia 800, HTC One X and the Samsung Galaxy Note 2. And who can forget the hilarious and dangerous iOS 6 Maps débâcle?
Here are our favourite mobile stories that we reported on in 2012. We'd say it's definitely worth going back and checking them out. Are you read for the year 2012 in review? Enjoy!
Let's start off with a good story. At the end of the year, we reported upon how the senior advisor of Save the Children Francis West is hoping that mobile technology can help more in disaster relief. He claims just having mobile phones will not be enough – you also need accountability, preparation and collaboration to make an effective difference. Definitely worth a read.
After receiving several suspicious comments in a row to our Vectone Mobile article, we decided to take a closer look. After some investigation including some IP address sleuthing, we thought we were getting somewhere. Then we looked up some of the email addresses left with the comments on the back-end of the site. What we saw amazed us! It seems that the Head of Online Marketing and Sales at Vectone was going around the articles on Mobile Network Comparison, acting as if he was a customer of Vectone. He was posting multiple comments praising Vectone with no mention whatsoever that he earns his living by trying to promote the company. Busted! We also found evidence of them signing up to phoney accounts to leave similar false forum posts elsewhere and manipulate the opinions of potential customers. The icing on the cake was when we found a post saying "And they suck. It's a joke!" and managed to trace the IP address to the Vectone offices! Surely one of the most humiliating exposures of astroturfing in 2012?
When O2 was first hit by an outage on the afternoon of 11 July, we had no idea what was in store for us. Social networks such as Twitter were full of reports from users having trouble (those who had an alternative broadband connection to get online with) and people were reporting issues with Giffgaff and Tesco Mobile too. It took some hours for O2 to acknowledge the issue but when they said it would be fixed "asap" we thought that meant an hour or two max. By 9pm the outage had hit all the major news networks such as the BBC, Guardian and Telegraph and then the O2 website itself crashed. We were the only website liveblogging the whole thing
What we assumed was going to be a short story turned into a total marathon. O2 reportedly had over 200 engineers working on the problem and by about 8am, some users were managing to regain connectivity on 2G only. After blogging all through the night, we continued to cover every aspect of the story as everything came live again about 3pm the next afternoon. Finally, over 30 hours and 4,00 words after the outage began, we were able to close down the liveblog and start to analyse the fallout. But we weren't content to leave it like that…
Even two weeks after the massive O2 outage, there'd still not been any proper explanation for how things went quite so catastrophically wrong. Like many others, we were really frustrated by O2's response. They did not take responsibility for the outage or apologise and their compensation offer was insulting. Worst of all, they never really explained what caused such a monumental failure.
Unperturbed, we asked around our industry contacts to see what we could find out. We were the only mobile blog to go in depth and delve into the ins and outs of the structure and logistics of a modern mobile network. By uncovering how O2 actually runs, we were able to give the explanation they failed to provide about exactly what probably caused the biggest outage in years.
Ovivo Mobile are a new network that launched with a pretty amazing selling-point – they are completely free! We were quick to learn more and were the first to interview CEO and founder Dariush Zand. Click through above to learn about this novel new business model (and stick around for more news on Ovivo in 2013).
There's many good reasons Giffgaff have consistently been rated our #1 network by our readers. Over the few years they've been running, they've made a big effort to reward their loyal customers and one of the ways in which they do this is to give out free credit and cashback to users and charities. In the middle of 2012, this "payback" smashed all previous records as the total paid out reached over £1 million. This is compared to just £27,000 two years previously when the scheme first started. We reported on the evolution of the payback scheme and its potential future.
Many people were critical of EE's 4G pricing plans when they were first announced back in October. However, the main complaints were simply that it was a bit more expensive. We delved a bit deeper and wrote an in-depth analysis of the price scheme and what the tariffs would mean for you. By giving EE a chance to defend themselves we got a better idea of the point behind the figures but still concluded that the data limits and general fee structure was completely indefensible.
This was one of our most commented-upon blog posts ever. In it, we announced a brand new mobile broadband provider called Samba Mobile. Described as "An exciting new service that gives you free mobile broadband to your laptop, desktop or tablet", they are the distant cousin of ill-fated mobile network Blyk (anyone remember them). We reported on how they give you a free mobile data allowance in exchange for watching adverts.
To celebrate SMS text messaging turning a significant twenty years old we went back and did some research into its genesis. This detailed article takes you back to the very beginning. From the invention of the text at GSM meetings in 1985 through the first SMS message received in 1993 to modern day technicalities and the explosion of texting in the 2000s. Did you know the most frequent way we get in touch with family and friends is by text and that well over half of UK adults text at least once a day?
This was a series we are incredibly proud of. Dozens of hours of work and statistical number crunching when into these articles that analysed all the different contracts and PAYG options for getting an iPhone 5. We looked at every possible permutation from every possible network operator (there were hundreds in total) and worked out the best value choices available. We used a technique called Total cost of ownership which allowed us to balance the cost of the phone as well as the monthly charge to enable a fair comparison between all the different tariffs. In the end, after lots of calculations, we were able to give recommendations for the absolute cheapest way to buy an iPhone 5 regardless of whether you needed lots of minutes, unlimited data or just to get the best price possible full stop.